Emergency Locksmith Service
Locked Out?
Lost Your Keys?
Call us, we can help NOW!
Emergency Locksmith Services
Lockouts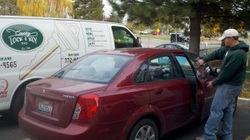 Country Lock and Key INC. are available 24 hours a day, 365 days a year. Each of Country Lock and Key technicians are licensed, bonded, and insured to give you, the customer, peace of mind when we come out to service your vehicle. Car door locks are an evolving industry. Manufacturers are producing increasingly advanced locking systems; making it more challenging to gain entry. Country Lock and Key stays on the cutting edge of the vehicle opening industry to provide our quick and reliable service.
Make and Program Keys for Your Vehicle
Losing your keys can be a stressful and hectic event. Especially with new vehicles being equipped with expensive transponder systems. Country Lock and Key has trained and specialized technicians to aid you in making keys to your conventional or high security vehicle.
Emergency Re-Keys
If you need emergency re-keys or locksmith service, we are here to help. We answer our phones 24hrs per day 365 days per year. Country Lock and Key is here to help!
Call one of our Security Experts today!
With over 75 years of combined locksmith experience in the locksmith industry we offer a level of experience and service that can't be matched in North Idaho and Eastern Washington.